Na mannelijke superheldenfilms en nog meer mannelijke superheldenfilms (om nog maar te zwijgen van seksistische marketing en andere diversiteitsproblemen voor die mannelijke superhelden-producties) komt in juni 2017 eindelijk Wonder Woman in de bioscopen. Studio Warner Bros. benutte een grote conventie, Comic-Con, in San Diego, om fans een allereerste voorproefje te geven. Ik kan niet wachten:
Met Wonder Woman krijgen we voor het eerst in ruim tien jaar weer een Hollywoodfilm rondom een superheldin. Pas in 2019 kunnen we een volgende verwachten, Captain Marvel. Die film zou eerst in 2018 uitkomen, maar studio Marvel besloot voorrang te geven aan een vervolg op Ant Man "dus" het werd "natuurlijk" een jaar later.
Kortom, vrouwelijke fans en fans van superheldinnen in het algemeen komen er bekaaid vanaf. Joehoehoehoehoe, juichte website Jezebel dan ook na het zien van de Wonder Woman trailer:
This is a biased assessment, because Gal Gadot has maintained a death grip on my heart ever since she first appeared as Gisele in the Fast & Furious. But setting that aside: This new trailer for Wonder Woman totally slays. […]  "I can't let you do this," the soldier says, right before several smash cuts of our heroine taking on what appears to be an entire battalion with gritty panache. "What I do is not up to you," she replies coolly, a response that caused my fist to involuntarily punch the air in a fit of girl-power solidarity.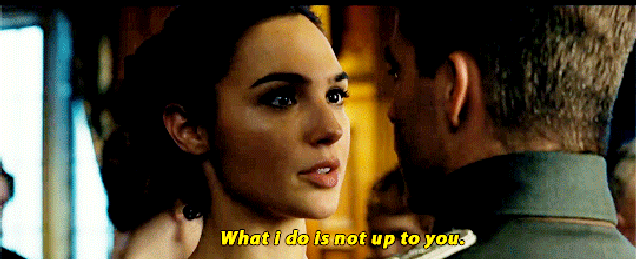 Het lijkt erop dat regisseuse Patty Jenkins recht doet aan Wonder Woman's geschiedenis als feministisch icoon. Ook andere media, zoals webmagazine Slate, reageerden positief op de trailer. Kan het beter? vroeg The Mary Sue zich af met een retorische vraag. We weten het in juni 2017. Zucht…..